Google Forms alternatives help users make customized forms and gather more relevant data by offering features that Google Forms lacks. This is why more and more people switch to survey software in an attempt to improve their survey-making.
Even though Google Forms is completely free, its lack of important features such as the ability to customize forms, use skip logic, and filter results in the final stages of analysis do not necessarily make it a cost-effective choice.
If you have a business whose needs have outgrown the simple features of Google Forms, read this article and find out what are the best online survey tools that can help you create forms worthy of your time.
Google forms alternatives - why do you need an alternative to Google forms?
Even though Google Forms is a good choice for simple surveys and questionnaires, it will very quickly fall short when making more complex surveys, such as those needed for professional and educational purposes.
When looking at the user experience, the biggest shortcoming that makes users seek an alternative to Google Forms is that it doesn't provide customization possibilities. This leads to surveys looking the same, which doesn't help with brand awareness, and can even seem unprofessional.
Also, a conditional logic option is not available in Google Forms, nor is collecting payments through forms, which is vital for most businesses.
Furthermore, when it comes to data collecting and its relevance, Google Forms lacks advanced features that can improve collection and analysis. For analysis, data can only be exported into a Google Spreadsheet without the option of filtering the results.
Some users may choose Google Forms because it's free and has a simple interface. But the truth is, there are a lot of online platforms for building surveys that offer a similarly easy interface, maybe even better. Furthermore, they give you more freedom in creating forms and offer many additional features, also under a free option.
Continue reading to find the best free alternatives to Google Forms that will take your survey-making to the next level.
Which survey-making tools are similar to Google Forms?
The truth is, there are a lot of tools similar to Google Forms out there, so how do you find the best Google Form substitute?
When deciding which are the best Google Forms alternatives, you should pay attention to a couple of things:
The number of survey templates and question examples
Customization and branding options
Personalization of the survey questions for individual respondents
Additional features regarding exporting and analyzing results
We've taken all of these points into consideration and made the top three picks for the best alternative for Google Forms. Read on and find out which Google Forms competitors are the best alternatives to Google Form.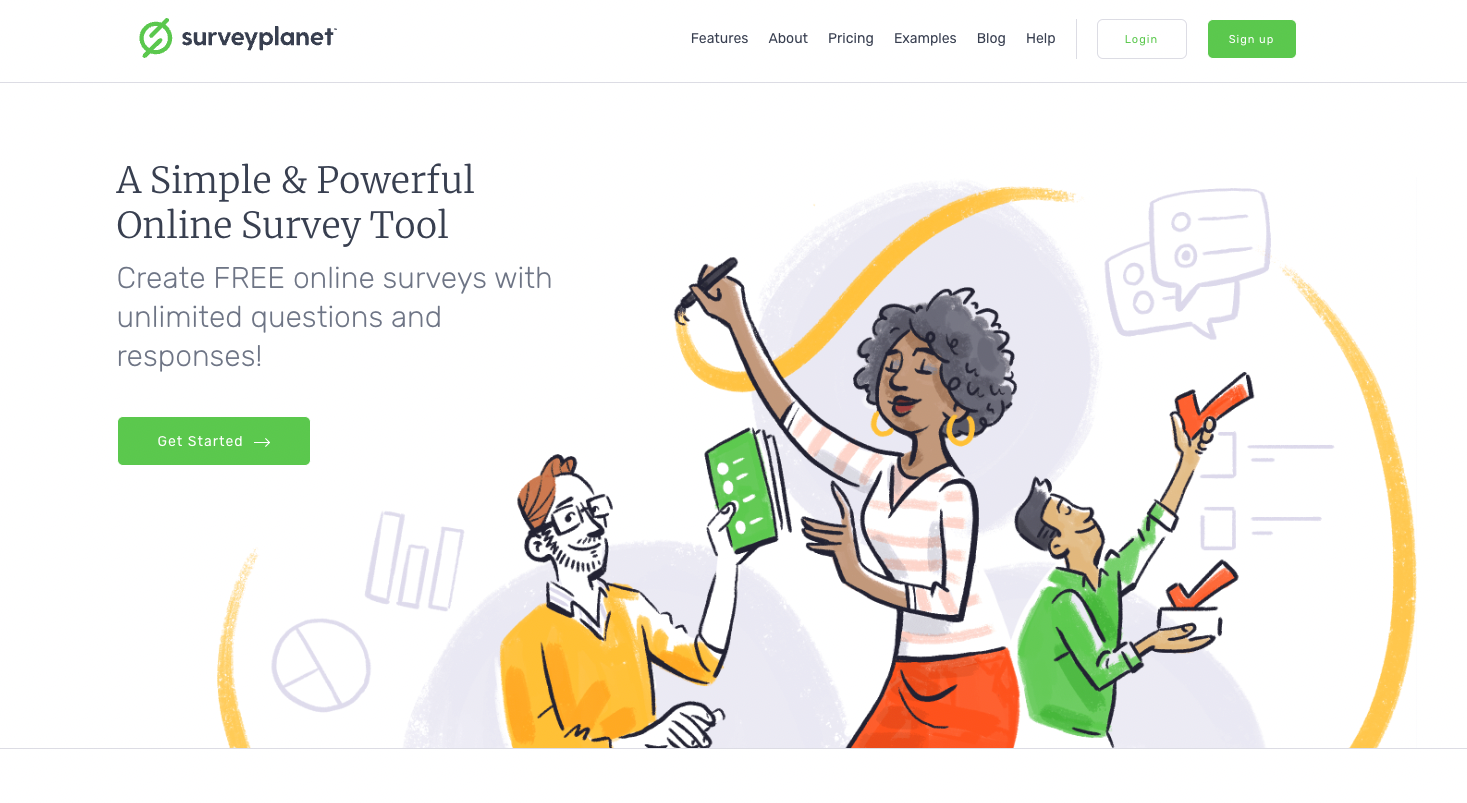 #1. SurveyPlanet - a simple and powerful online survey tool
If you're looking for a Google Forms alternative that is engaging, easy to use, and that offers various features that are well beyond anything Google Forms provides, then SurveyPlanet is the best choice.
What makes SurveyPlanet the best survey software on the market are the unlimited options it offers, as well as its simple user interface. SurveyPlanet helps survey makers easily navigate the process of creating a survey, providing a final product that is more convenient for their respondents.
With SurveyPlanet you can customize the way a form looks, keep track of its performance, ask different questions to different users, and easily export and analyze your results. Here are its best features, explained in more depth:
SurveyPlanet offers numerous free survey templates and question examples
You can't have the same form for everything. Fields of research differ greatly, so it is a completely different situation when you are dealing with market research and customer satisfaction, as opposed to human resources and education.
That is the first issue people encounter when using Google Forms for a more specific purpose, and one of the main reasons they start looking for Google Forms alternatives.
At SurveyPlanet, we are aware that various fields of research have different requirements. Our main purpose is to offer software that will meet different needs. For those who need help getting started, SurveyPlanet offers numerous survey templates and samples that are divided by fields of research.
On our website you can find free templates for market research and product research surveys, human resources surveys such as job applications, employee reviews, and exit interviews, as well as event planning, customer satisfaction surveys, and teacher evaluations.
Unlimited questions and custom themes for eye-catching surveys
To make the creation process easier, SurveyPlanet lets its users choose between hundreds of predefined questions and colorful themes. It helps you build forms quickly and easily, and even if you don't have a clear vision about how it should look, you can be sure you'll end up with an attractive and engaging product.
However, if you have developed ideas of how you want your form to look, you can also customize themes and questions to your liking. When making a custom theme, you can choose your own colors, fonts, and background images, as well as being able to add welcome images and upload additional photos needed for your customized questions. All of this will make your survey reflect your brand and contribute to raising brand awareness.
Countless additional features help you gather relevant data
The way your survey looks is not the only thing that matters. Its primary purpose is to provide you with comprehensive and substantial data that will help you understand your research topic and benefit your business.
Not all questions are relevant to all respondents, so it would be convenient to ask different questions to different respondents, right? Well, with SurveyPlanet, you can do this very easily!
With our question branching feature, you can make use of skip logic and choose which questions will appear to each respondent based on their previous answers. This will ensure the most relevant and thorough data is captured, but without the cost of overburdening your respondents, thus also increasing the response rate to your survey.
Moreover, with our optional comments feature, both survey creators and participants can add comments in the process of making/answering the survey. More of our additional features include white label branding (which lets you rebrand your survey with your logo), URL customization, survey completion notifications, monitoring survey performance, and much more.
Exporting and analyzing results help you make proper business moves
When you've made your survey and collected the data, the most important step remains: analyzing the gathered information. Although it is not an easy process, choosing the right survey tool with adequate features can help ease the challenges of doing so.
SurveyPlanet offers many features that help organize and analyze data quickly and easily. With our software, you can organize and filter results, which will help you better understand your audience, as well as export results into various files such as Microsoft Excel, Microsoft Word, CSV, JSON, and PDF files that will make analysis easier.
Exporting results into different file types and filtering them during analysis are key features that Google Forms lacks. These are some of the main reasons SurveyPlanet is considered one of the best Google Forms alternatives on the market.
#2. Typeform - user-friendly surveys in the form of a conversation
In the survey-making world, Typeform is best known for its simple one-question-at-a-time layout, along with its conditional logic options. It lets you create forms, surveys, and quizzes that are easy to answer and that your respondents will enjoy answering.
It aims to make taking surveys feel like having a conversation, and it is a great alternative to Google Form quiz, poll, or survey if you want to make them unique and engaging. With Typeform you can also take advantage of conversational marketing, as it shows only one question at a time.
Survey templates and customization for a better user experience
Typeform is a great Google Forms alternative when it comes to customization of your forms and surveys.
It offers you numerous templates that help you do market research, survey your employees or get insight into customer loyalty. Additionally, you can create different quizzes, polls, questionnaires, and giveaways.
Typeform is also very user-friendly and lets you customize questions and the look of your surveys. You can edit the design and change the layout of each question, as well as add photos and videos from its extensive library.
With Typeform's free version you can create as many forms as you'd like. However, there are limits when it comes to the number of questions each form can have, which is not the case with SurveyPlanet. The number of responses you can receive per month is also limited, which can highly impact the accuracy of your results.
So, although both SurveyPlanet and Typeform are noteworthy Google Forms alternatives, considering the customization of forms and surveys, SurveyPlanet by far beats Typeform. It allows you to create as many surveys as you'd like, with unlimited length and number of responses.
Additional features and response integration for highly relevant results
Typeform offers many additional features that let you easily control your survey's performance, including the collected data. These include setting up a response limit, scheduling a closing date, or turning on email notifications for each response.
When it comes to the user experience, Typeform is known for showing only one question at a time to make your form conversational. However, it has additional features that have a positive effect on the user experience.
For example, it allows you to filter out irrelevant questions by setting up conditional logic, which is choosing questions based on the respondent's previous answers, as well as showing closed messages to respondents.
Typeform also allows you to integrate participants' responses with various tools like Google Sheets, Slack, Zapier, HubSpot, Mailchimp, and other marketing tools that Google Forms does not have the capability to provide.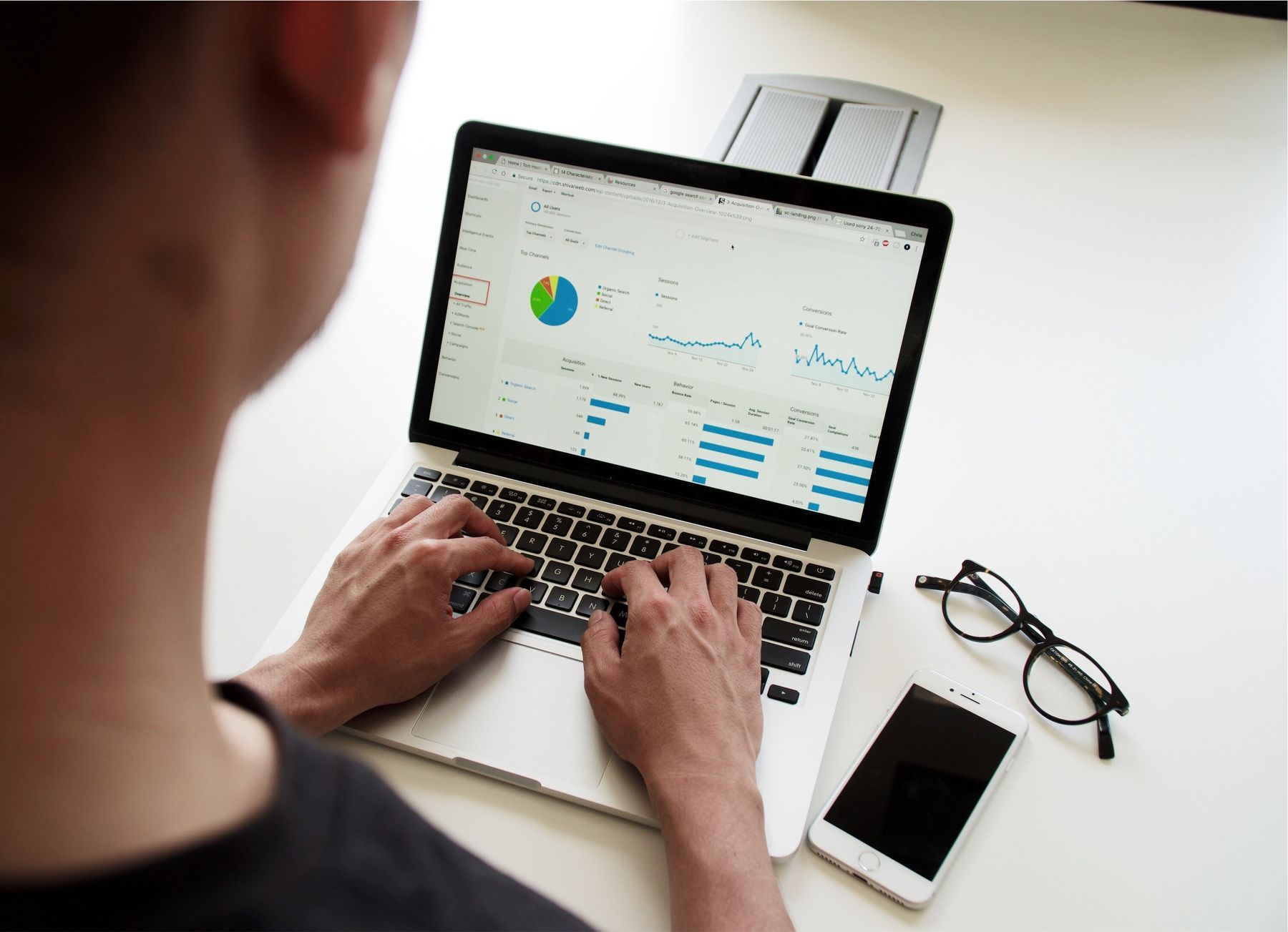 Photo by Campaign Creators on Unsplash
#3. SurveyMonkey - the most popular online survey tool
SurveyMonkey is another powerful survey-making tool that rightfully deserves its place on the list of the best Google Forms alternatives. As a company that has been on the market for quite a while, it offers users a secure platform, numerous templates and features, and a high level of customization.
A lot of people would argue that it is the best alternative to Google Forms. We will now discuss this topic and offer a thorough overview of its features.
Customization options and predefined questions make survey creation easier
Like all the other online survey tools on this list, SurveyMonkey has good useability and provides great freedom in customizing surveys, the most important features that Google Forms lacks.
What's more, it offers users access to various predefined questions. In total, it provides 15 different question types, both open-ended and closed-ended, as well as Likert scale and matrix questions.
However, it doesn't have a drag option to allow answer choices to be moved around in order to rearrange them, something that you can easily do in SurveyPlanet.
And even though it has a huge catalog of questions, there is one major concern for all potential users. Namely, with the free version, one form can contain no more than ten questions, other elements included. Additionally, you can view only ten responses, and after 60 days all of them are deleted.
Additional features that meet more advanced needs
As far as additional features are concerned, SurveyMonkey offers rather diverse features, much like the other online tools we're covering.
With SurveyMonkey, you can collect more relevant data by making use of conditional branching and skip logic, as well as embed your form into emails to increase the response rate.
It lets you export data to different types of formats, such as XLS, CSV, PDF, and PPT, and offers many convenient features for result analysis such as filtering by question and by specific words for open-ended questions.
What's more, when generating reports you can use different types of charts and graphs, whereas Google Forms only allows for the use of graphs and pie charts of numeric data.
What is the best Google Forms alternative?
These are not the only Google Forms alternatives. There are many forms similar to Google Forms on the market, and all of them have their own features that are appealing to users.
And while many can easily replace Google Forms, due to its vital shortcomings in the field of survey customization and improved data collecting and analysis, these are the top three picks.
So why do we argue that SurveyPlanet is the best out of the three?
All of these products have their additional features, but what makes SurveyPlanet the best free alternative to Google Forms is the number of features it offers in its free plan. While both Typeform and SurveyMonkey limit either the number of surveys created or the number of questions or responses that can be included in a survey, SurveyPlanet offers all of that, but without any limit.
Additionally, SurveyPlanet has the most simple and engaging interface, which makes creating surveys a piece of cake! So, if Google Forms can no longer meet your needs, start using SurveyPlanet and take your survey-making to the next level!
Photo by UX Indonesia on Unsplash